SHOP NEW CADILLAC CT4-V BLACKWING in NEWTOWN SQUARE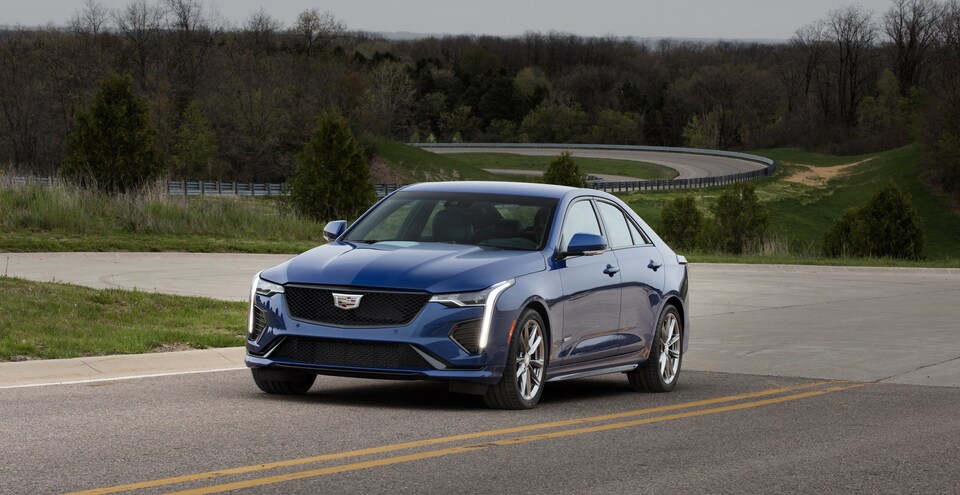 Purchase the All-New Cadillac CT4 in Newtown Square
If you want to go slow, this isn't the page for you. There are a few Cadillacs made for cruising in Newtown Square. You've seen them. They can skirt past other vehicles in Chesterbrook, PA, but for the most part, they're cruising. The Cadillac CT4 Blackwing is a step in another direction. The twin-turbocharged V6 engine propels you to speeds rivaling high-performance cars in Newtown Square. If you want to go slow, we can show you a few more options. But if you're looking for heart-thumping acceleration and a blazing 0-60 time, the Blackwing is here. For you.
Speed Redefined
Do you know how fast you can get to 60 MPH with the twin-turbocharged C45 Blackwing? Faster than you can make the perfect morning cup of coffee. Faster than you can tie your shoes. How fast? Try 3.9 seconds. The 3.6L twin-turbocharged engine delivers 472 horsepower and 445 lb.-ft. of torque. The skillful aerodynamic design, performance steering, Brembo brakes, and all-season low-profile, run-flat tires are available for the Blackwing CT4.
Interior Design and Safety
Jet black leather upholstery is available and interchangeable with sued microfiber upholstery or interluxe seats. A wireless charging pad with Apple CarPlay® and Android Auto™ is standard for the CT4 Blackwing. Effortless streaming is made possible by a Wi-Fi hotspot. Ambient lighting and a 12-inch HD color reconfigurable driver cluster are also standard with the CT4 Blackwing.
Safety includes an HD rear vision camera, a Head-Up display projected onto your windshield, and various brake assistance features. So whether you're testing the limits in Wayne, PA, or enjoying a date night in West Chester, PA, your CT4 will give you the road vision to stay safe and alert at all times.
Hill Cadillac
We're not saying you have to drive fast if you purchase a Cadillac CT4 Blackwing near Wilmington, DE. But it might be hard not to. You can test drive a Cadillac CT4 Blackwing here in Newtown Square. Feel what it's like to be in the driver's seat of maximum comfort and top-level performance with a Cadillac.
Contact Us!
* Indicates a required field