Shop New Cadillac CT4-V Blackwing | Newtown Square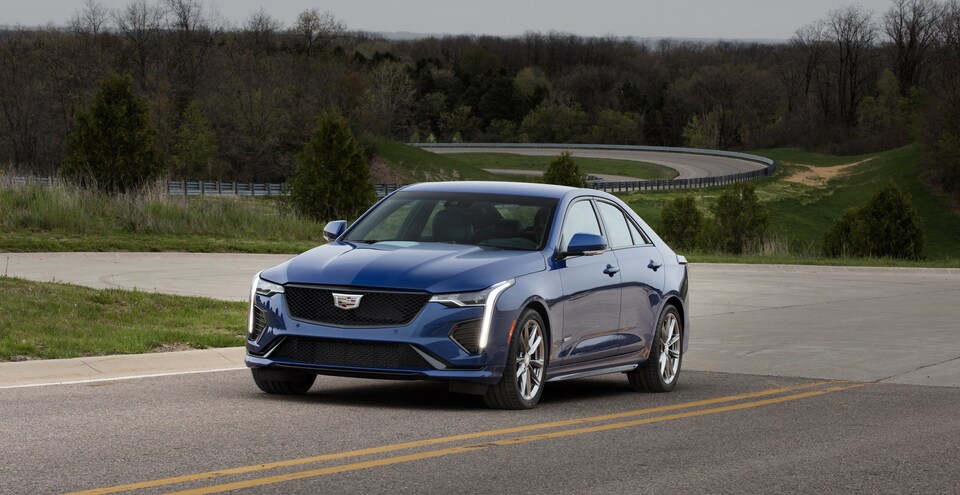 Discover the New Cadillac CT4-V Blackwing, Now Available in Newtown Square
The new CT4-V Blackwing combines a modern-day sedan innovation with excellent powers resulting in race-inspired experiences whenever you are on roads. With its V6 delivering top track performance figures, the new Blackwing is the most powerful in the new class inventories.
Cadillac CT4-V performance
The new Blackwing features several top-class performance systems, not only in its class but also in the entire auto industry. Under the sleek and practical body, the Blackwing carries a 3.6L V6 which comes with dual turbos. With throttle and traction management features, the CT4-V Blackwing's powertrain churns out a horsepower of 472, and it only requires 3.8 seconds to hit an acceleration of 60 mph.
Additionally, this new model features a Launch Control system, which comes with Line Lock equipment to aid in quick acceleration. Notably, Blackwing hosts an exclusive world-top suspension when it comes to response. With the Magnetic Ride Control, this feature customizes the new machines' damping, ensuring the Cadillac is stable even on rough Chesterbrook, PA roads.
Generally, the new Blackwing's powertrain links to a manual six-speed from its entry levels. This is the only sedan to bear the transmission, plus it adds on a shifter with a distinctive emblem. Interestingly, drivers desiring auto functionalities have an optional ten-speed, maintaining a top-class driving experience to the new Cadillac.
Performance is not only about a car's engine but also its response to uncertainties and commands. In the new CT4-V Blackwing, you will experience a new world of stopping powers courtesy of Brembo brakes, which also are the largest from the Cadillac factory. Other enhancements to improve your handling dynamics include a performance-oriented steering wheel featuring specs like the V-Mode, unique trims, and Traction Management controls.
Cadillac CT4-V Blackwing Design
A handsome exterior design is seductive, but a blend of style and performance is more than that. Sedan lovers have all the reasons to smile with the new Cadillac sedan because of its body details and interior crafts. Its sharp lines and bold bumpers make up for its aerodynamics, plus the lightings are distinctive to echo the brand's aura.
On the Blackwing's front end, a nice crafted airflow grille with mesh showcases your arriving styles, plus there are splinters for the rear and front that work on traction customization and car lifting. The new Cadillac grants you all the type of Wayne, PA terrains you need for the wheels.
Cadillac presents a trio for everyone's needs, from performance to the all-time summer tires. Shopper gets the 18-inch option with gloss finishes, 18-inch options with bronze finishes, or the 18-inch wheel with Granite finishes. To suit everyone's preference, Cadillac Blackwing is offered in two packages for excellent controls and speed.
The Blackwing Technology
The new Cadillac Blackwing features suede microfiber accents, well-designed torch seat belts, a performance information recorder, an HD 12-inch cluster display, and a fifteen speaker AKG system on its interior. The cluster display, which is also customizable, plays an ideal role in your West Chester, PA tours, especially in the V-Series Blackwing. It optimizes transmission, traction control, and shifting gears for quicker rides.
In the head-up display, important car details are well projected on the windscreen to aid in your concentration, and it can be reconfigured to set what details and notifications you wish to view on it.
Safety of the CT4-V Blackwing
With the multiple tech and performance advancements showcased in the new CT4-V, Cadillac never lets you travel alone regardless of your Wilmington, DE destination. In the cars package, shoppers interact with innovative driver assistance packages, including some like the blind spot, emergency brakes, and more.
The Blackwing is one ultimate sedan not to miss in our new Hill Cadillac inventory, and even with your budget, we will always find a way to help you out.
Contact Us!