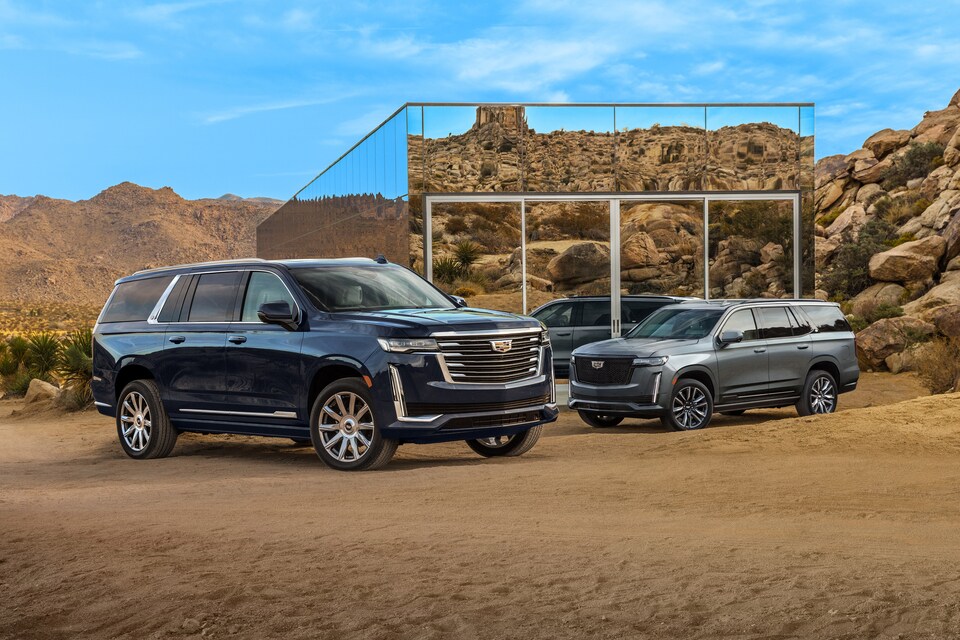 Buy a used Cadillac here at Hill Cadillac in Newtown Square
Take a look around the greater Newtown Square area and you'll find no shortage of options for used car shopping. However, if you're craving a better breed of pre-owned vehicle, you owe yourself a visit to Hill Cadillac to check out our selection of used Cadillac cars for sale. From premium sport sedans to luxury SUVs, our used Cadillac inventory has everything you could ever want at exceptionally competitive prices.
USED CADILLAC FOR SALE IN NEWTOWN SQUARE PA
Cadillac Escalade
The Cadillac Escalade is perfect for a large family. It is spacious and has a solid, luxurious design that offers a smooth ride. When buying a pre-owned vehicle, check the engine and transmission by taking it out on the highways around Chesterbrook, PA, for a test drive. This model comes with either a V8, a 6.2-liter V8, or a 6.0-liter V8 with an automatic transmission. It is best to opt for the newer models with the 6.2-liter motor since it delivers excellent performance on your travels.
Cadillac CTS
This car is sleek and powerful from its exterior design and also for what's under the hood. If you're searching for a used Cadillac CTS near Wayne, PA, there are two versions available: the Cadillac CTS V-Series and Cadillac CTS Sedan-Hybrid. The Cadillac CTS V-Series is a powerful vehicle that offers incredible stopping power and can reach 60 MPH in 4.8 seconds. The Cadillac CTS Sedan-Hybrid comes with a V6 engine that delivers 242 horsepower. This vehicle is suited for those seeking a powerful sedan.
Cadillac XT6
Consider shopping our collection of used Cadillac XT6 models. Click here to learn more about these used Cadillac models and shop our inventory of used Cadillac XT6 models
Cadillac XT4
If you are looking for a compact SUV that can command the roads of West Chester, PA, then a used Cadillac XT4 might be right for you. This is the smallest SUV in the Cadillac lineup and is one of the newest models it offers. With several trim levels and many unique and luxurious interior details, this model is ready for all of your travels in the years to come.
Cadillac XTS
This sedan is perfect for a family or a driver who enjoys luxurious and stylish cars. This luxury car can seat up to five people, and it has an impressive interior with many comfortable features. It also comes with plenty of technology features, and it offers high performance too. It is best to opt for the Cadillac XTS V-Sport, which is equipped with a turbocharged V6 engine and an eight-speed auto transmission. This car is suitable for those who are looking for a sporty sedan with an exceptional interior.
Cadillac XT5
Our pre-owned Cadillac XT5 models are ready for all of your city driving in Wilmington, DE, and beyond. This crossover SUV has seating for up to five people and a few unique trim levels. This model is also one of the newer offerings in the Cadillac SUV lineup.
Why Buy a Pre-Owned Cadillac at Our Dealership in Newtown Square?
There are many benefits to buying a used Cadillac here at Hill Cadillac, and perhaps the most important is value. You will be getting a high-end luxury vehicle at a price that fits your budget. Since our Cadillac models offer luxury at every trim level, it's easy to find the features you want on the right model for you. Our team is here to help you find the right used Cadillac from our current lineup. If you don't see your ideal model, we encourage you to check back again soon. Our used Cadillac inventory near Chesterbrook, PA, is always updating.
Visit Hill Cadillac to Learn More
Around Wayne, PA, you'll be able to find plenty of options for an older or newer model from the Cadillac Brand. You can also find a vast offering of pre-owned vehicles from other reputable brands. If you're ready to explore more about our used Cadillac inventory, then visit us here at Hill Cadillac in Newtown Square for a test drive. We look forward to working with you soon.